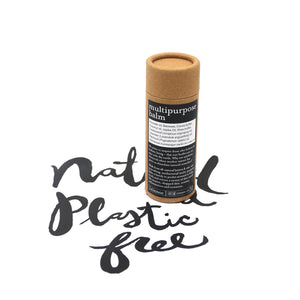 Multipurpose balm
This pocket-friendly multipurpose balm is perfect to carry around and apply whenever wherever necessary! The skin nourishing ingredients make it good for chapped skin and scrapes; lips and nails; wrinkle prone zones; hair tips to calm those frizzes etc. We're also super excited about this new plastic free paper tube packaging!


Directions:
Easy roll on tube, just push up from the bottom a little at a time. It can be directly applied or rub some on your fingers to apply on the location desired. 

Our Ingredients:
Avocado Oil
Avocado oil is highly-penetrating, and deeply nourishes and softens dry skin, it's properties help promote cell regeneration and used for skin inflammation.
Organically crafted Beeswax
Organically produced and unrefined, beeswax help this balm stay in a semi solid state so it's easy to apply. It also offers an anti-inflammatory effect on the skin.
Organically crafted Cocoa Butter
Cocoa butter is a hard aromatic butter that helps soften and lubricate the skin, it is highly protective of the skin and acts as a water repellent. It contains high amounts of vitamin E and has excellent antioxidant properties.
Organic Virgin Coconut Oil
Coconut oil is mild and moisturising, and serves as a protective layer, it's an excellent carrier oil for itchy, sensitive skin and doesn't clog pores.
Jojoba
Jojoba is actually not a true oil but a liquid wax. It is highly penetrating and closely resembles our skin's own natural sebum. It's very moisturising and is a great conditioner for the hair.
Shea Butter
Wildcrafted and unrefined, this butter is a beautiful moisturizer assisting in healing dryness, dermatitis, psoriasis, eczema, sun damage, and burns.
Organically crafted Cedarwood oil (Juniperus virginiana)
Its astringent and antiseptic qualities make it useful in skin care, especially for acne. It also has anti-inflammatory properties that help with wound healing.
Certified organic Lavender oil (Lavandula angustifolia)
A popular aroma, Lavender is well regarded as a analgesic, anti-inflammatory and antibacterial oil. It's great for soothing and calming both the physical and emotional self.
Organically crafted Patchouli oil (Pogostemon cablin)
Patchouli oil is incredibly skin nourishing, making it a lovely choice for helping heal minor scars, sores, eczema, and surface wounds, it can also help reduce unwanted bacterial and fungal issues.
Organically crafted Palmarosa oil (Cymbopogon martini var. motia)
Palmarosa creates a sweet, rosy, slightly woodsy aroma. It's used to support healthy skin especially when dealing with minor skin infections, eczema, psoriasis, and dryness, it could also be useful when managing minor pain and inflammation.